Claudette Amarteifio and Robert Johnstone attended a Lambeth council resident engagement workshop on 11th July 2015. It was introduced by Matthew Bennett (Cabinet Member for Housing) who pointed out the low level of satisfaction that residents currently have with their 'engagement' with Lambeth Living (<40%) and the low level of awareness of the various forums that exist (~30%). He said that a report would be written based on the workshop and presented to the cabinet in September.
The  photo below is the programme for the day. We sat on four tables and discussed four topics in sequence with the facilitators rotating. The facilitators were Tim Fairhurst (North Area Housing Manager), Marek Effendowicz (Head of Communications), Linda Elliott (Estate Pride Project Manager) and Mark Howarth (Governance and Resident Participation Manager). Neil Whiteman (new Director of Housing Management for Lambeth) and Matthew Bennett floated around, listening in.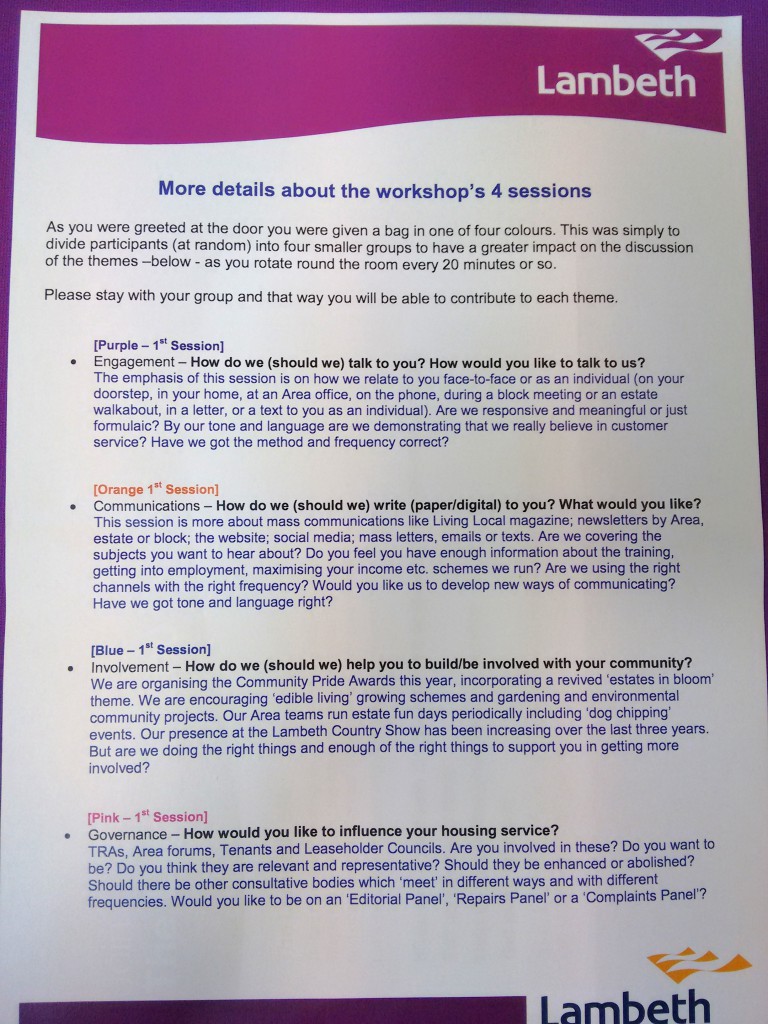 The second photo (below) is a prototype for a new type of leaflet that was presented by Marek Effendowicz. He proposed that such a leaflet (a single A4 page) be delivered on three occasions for any major work – before, during and after. This idea had a good reception at the meeting, with most people finding the quarterly LivingLocal magazine too general to be of interest.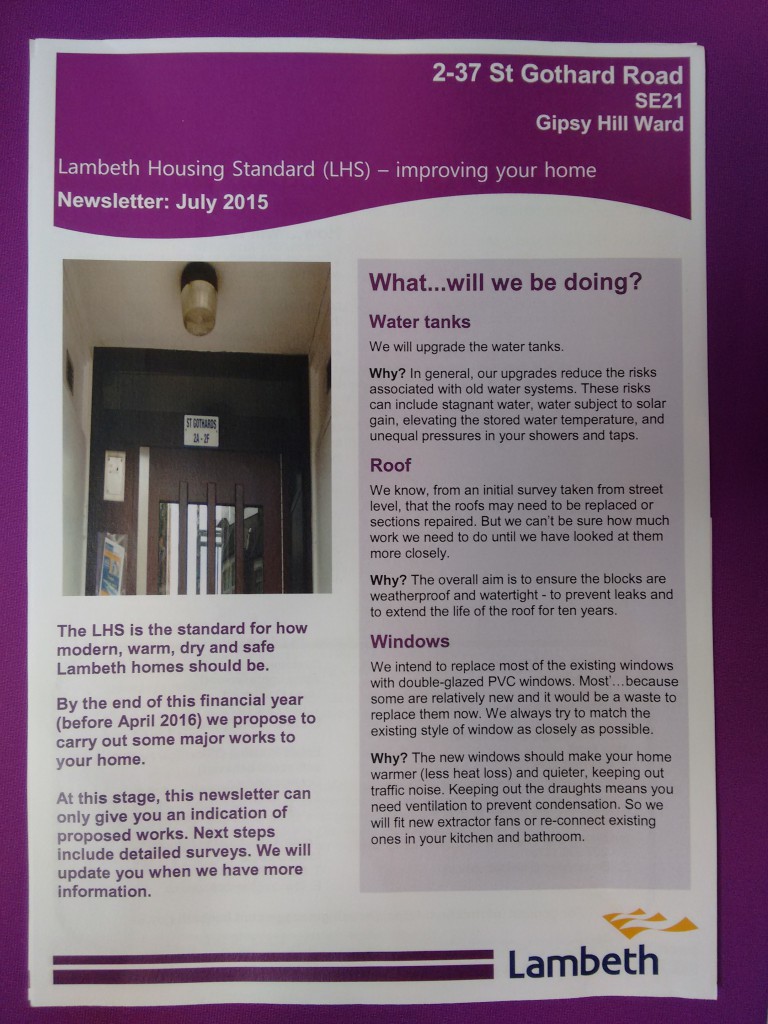 Marek also pointed out the new website for housing in Lambeth which he feels is much better than the old one:
https://housingmanagement.lambeth.gov.uk/
The remaining photos show some flip-charts that were completed by the facilitators to summarise the suggestions made on their topic. Participants were each given six stickers that they could use to highlight what they considered a priority.
| | |
| --- | --- |
| Suggestions for better 'involvement' | Suggestions for better 'communications' |
| Suggestions for better 'engagement' | Suggestions for better 'governance' |
Towards the end of the workshop, Jonathan Harbourne, the chair of Edmundsbury Court Estate TRA, spoke about a network of TRAs within Lambeth that he has set up. The TRA network is on twitter: @LambethTRA. Here's a nice article about Jonathan and the network: http://www.brixtonblog.com/tenant-and-resident-associations-tra-lambeth/28162